When Robert* first came across Bert Potter and his followers, he was all in. But after uncovering a dark secret at the Centrepoint commune, he was faced with a terrible decision – should he stay or should he go?
The Commune is a 12-part Stuff podcast produced and edited by Adam Dudding and Eugene Bingham.
GET THE PODCAST
The Commune contains discussion of themes that some people may find distressing. Click here for a list of support services and helplines
hen people look back at Centrepoint and talk about what happened there, the topic of the toilets and showers gets brought up nearly every time.
As retired journalist and former Centrepoint "resident visitor" Peter Calder says: "I don't think there's ever been a piece written about Centrepoint that didn't mention that there were toilets without doors.
"People are obsessed with the privacy of defecation," he tells The Commune, Stuff's new 12-part documentary podcast about Centrepoint.
To be fair, the fact that there were communal showers and toilets – with one block of four toilets set out facing each other, like four dots on the face of a dice – was unusual.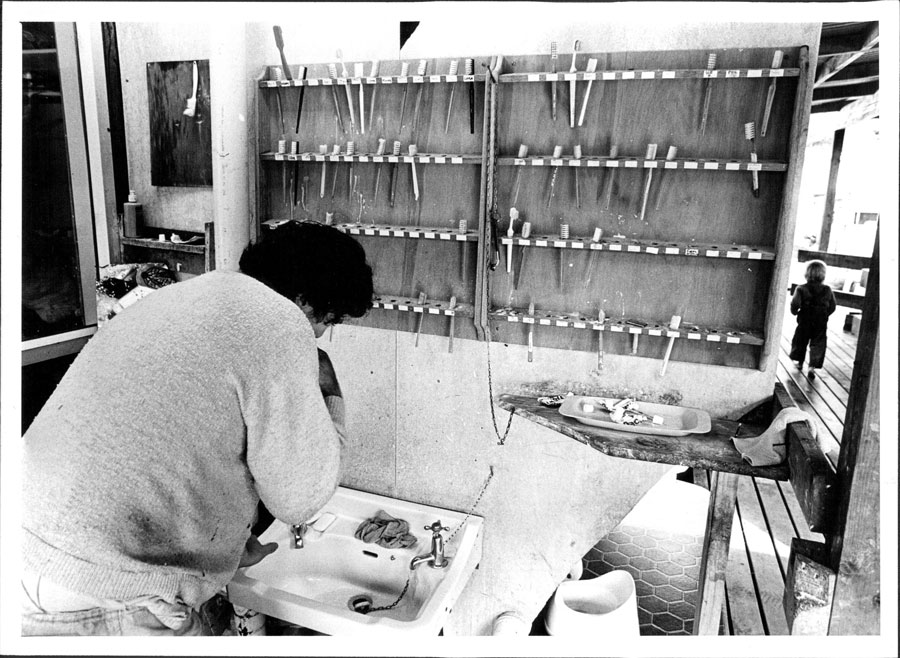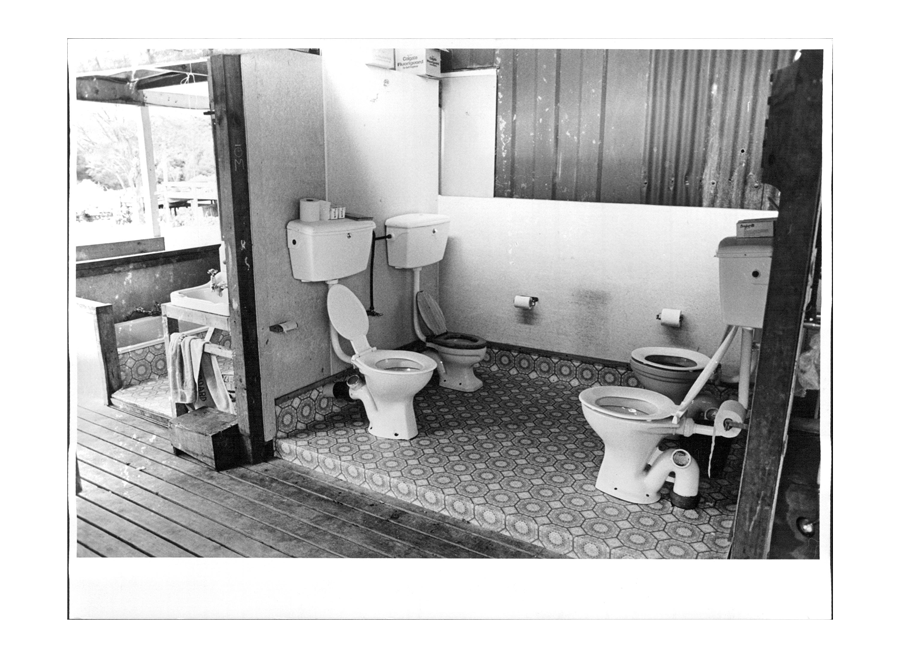 There's also the fact that a lot of crucial moments seemed to happen in the showers. It's as if the warm water and the lack of privacy washed away people's natural filters; conversations you would never expect to hear happened in those showers.
And it was there, in the communal showers, that Robert (not his real name), a founding member of Centrepoint, heard a conversation that would shock and disturb him, triggering him to leave the place he loved so much.
hese days, Robert lives a simple life near the sea, south of Auckland. He pulls fish from the water, vegetables and fruit from his lush garden.
He's a man of the land, just as he was the day he turned up at Centrepoint in 1978, immediately falling in love with the very dirt that the commune stood on, and setting to work building its drains and roads.
The commune began with a group of people trying to find a better way of living, embracing group therapy and sexual liberation.
And Robert was all-in.
"I became a different person in so many different ways," says Robert, who was interviewed for The Commune on the condition of anonymity for family reasons.
"I remember thinking, 'Hell, you've done so much for me I could give you 20 bucks a week for the rest of my life and that would be not nearly enough for the goodness I feel that I've got out of this'."
But by the time he left several years later, he felt utterly disillusioned, convinced its guru, Bert Potter, was leading the community astray.
He recalled a meeting of the community, where Potter stood up and told his followers: "If I tell you to break the law, you'll break it … and in time, you won't even question it."
Actually, that wasn't the worst of it. There was also that thing he overheard in those showers.
obert grew up in a state house, surrounded by other state houses. In a way, he says, it was his introduction to community living. Mums would chat and sing together as they all hung out the washing in their identical back yards, dads would share catches of fish with the neighbours, and kids would play down the road until they were called in for dinner.
Everyone had each other's backs.
And so, when the chance to join the new Centrepoint commune came up, he jumped at it, he and his wife and family packing up a trailer and taking along everything they owned.
Robert had first come into contact with what would become Centrepoint through his wife. She had suffered post-natal depression after the birth of one of their children and had been referred to the Shoreline Trust, a therapy group which included Potter and others who would go on to establish Centrepoint.
"It seemed to help a hell of a lot," says Robert. "So much so that she did another one or two groups, and I thought I'd go and have a look at this outfit, too."
Man of the land: Bert Potter (in gumboots) with other Centrepoint adults. Whistleblower "Robert" says when it came to practical matters, Potter claimed expertise, but seldom had a clue. Auckland Star Photo Archives
Man of the land: Bert Potter (in gumboots) with other Centrepoint adults. Whistleblower "Robert" says when it came to practical matters, Potter claimed expertise, but seldom had a clue. Auckland Star Photo Archives
Robert found the group therapy really helpful, including intense seven-day workshops he attended.
"Through the seven days, I'd feel quite exhausted, sometimes. But knowing that the Friday was coming up and you were finishing up, I'd feel rather content with where I'd been and what I'd achieved."
The therapy sessions Potter led pushed people to be more open, including sexually, and there was frequently sex during the breaks.
Initially, Robert didn't know whether he would cope.
"I must have been married about 10 years and I hadn't strayed or anything like that. And when the situation arises, I thought, well is it going to be alright?"
But when the situation did arise, he was fine.
"I had more than my share probably in that aspect … yeah, like a pig at the trough."
ree sex' was something that Centrepoint was known for. But to Robert, that wasn't what attracted him.
He enjoyed it, sure. But he enjoyed the therapy, too. And being part of a group establishing a new, communal way of living.
Even if it did have its frustrations – one of them being the guru himself.
Robert respected Potter's talents as a therapist – but the problem was, says Robert, Potter thought he knew best about everything.
Chopping down huge trees? Delivering babies? Setting up the commune's infrastructure? Potter would always be calling the shots, even when others were experts.
Robert remembers one moment when Potter tried to reconfigure the commune's sewage system, even though Robert was a drainlayer by trade – he'd done it behind Robert's back, without consulting him.
"Because that would be empowering me if he was asking questions. He was going to be the bright spark that solved the problem – but it didn't work."
Free sex, chainsaws and criminal abuse: Robert's story features in episode two of The Commune podcast
GET THE PODCAST
Again, though, Robert could let these sorts of things slide, as frustrating as they were. Until the moment he overheard Potter saying something that disgusted him, that conversation he heard in the open showers.
"I'd just hopped out of the shower, and [Potter] is standing to one side talking to a couple who were there," says Robert.
Potter started talking about a toddler who had been in his sleeping quarters, and told the couple: "She wanted to have sex."
Robert says Potter then graphically described what he did to the girl. This was a two-and-a-half-year-old. For Robert, it was too much.
"That was it."
He tried to tell people inside the community, but no one seemed to react.
In fact, others seemed happy about Potter having sexual contact with underage girls.
"One of the mothers came up to me and said, 'Bert's just had sex with so-and-so's daughter' – she was underage, about 14 or 15 – 'I'm so glad it was him for her'.
"I nearly shrivelled up inside."
By this stage, his wife had told him she was leaving him, but staying in the community.
And so Robert decided he had to go. Soon, he told the police, and started giving media interviews about what he had seen and heard. He even told the local council during a hearing about water rights at the Centrepoint property.
His revelations threatened Centrepoint's future.
Potter and others at the commune who abused children would not be brought to justice until 1991.
Looking back, Robert wonders: "What else could I do? I told the police, I told the local authority, I told anybody who wanted to bloody listen. And they all knew it was going on."
Despite all that happened – losing his wife, watching the commune he helped establish fall off the rails, then, later, collapse – Robert still thinks of Centrepoint fondly.
"It's an education I couldn't buy," he says. "I'm glad I had the experience, I really am. I can't say it was nice all the time, but it measures out over 50-50, that's for sure.
"But what a waste of good energy in shagging it up like that."
* Not his real name