In 2017, after carrying out five pub robberies in 40 days, Doug Roake, a 23-year-old with no previous convictions, invaded a rural home and shot Michaela Dawson and her mother, Nicola. Three years on, mystery still shrouds the case. Why did Roake attack the Dawsons? And what happened to the more than $100,000 he stole from the various pubs? The Dawsons, in their first media interview about their ordeal, are adamant they know the answer.
Trustworthy, accurate and reliable news stories are more important now than ever. Support our newsrooms by making a contribution.
Contribute Now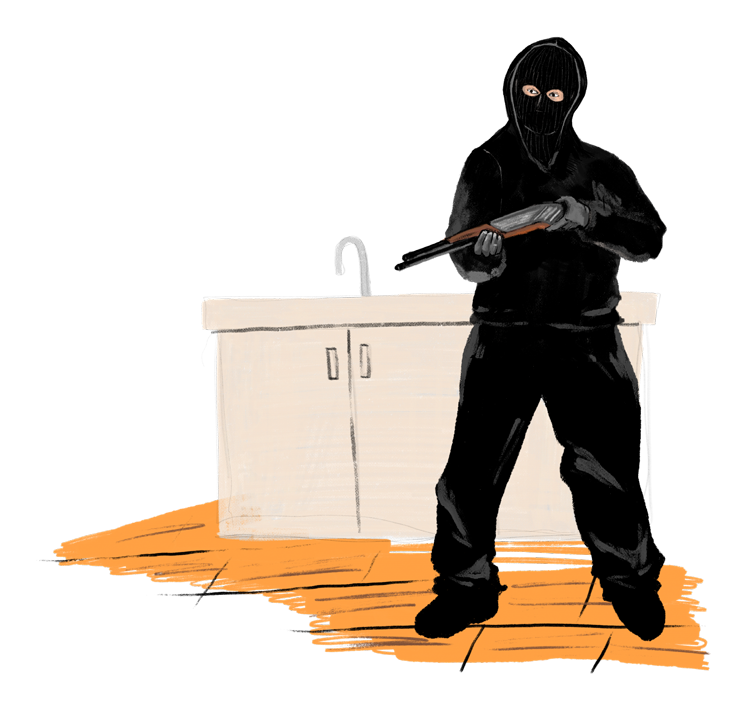 Michaela Dawson can't shake the terrifying image of the balaclava-clad man pointing a sawn-off shotgun at her in the kitchen of her family's home.  
The 30-year-old radiographer and her mother had settled in on the couch with a cup of tea when the gunman, dressed head to toe in black, began his assault on the rural Canterbury house under the cover of darkness. 
Michaela Dawson has vivid memories of the night a masked man blasted his way into her family's home.
Michaela Dawson has vivid memories of the night a masked man blasted his way into her family's home.
She can still hear the loud bangs as he blasted a window next to the locked front door and forced his way inside while her then 3-month-old son was asleep in his bedroom.
Occasionally, she still finds shards of glass amongst the gravel on the nearby driveway. The shotgun's solid lead slug chipped a schist wall in the foyer.
The main reminder of that night - /**span.text-highlight**/April 19, 2017/*/* - is a 30 centimetre scar stretching from Dawson's lower left thigh to midway down her calf.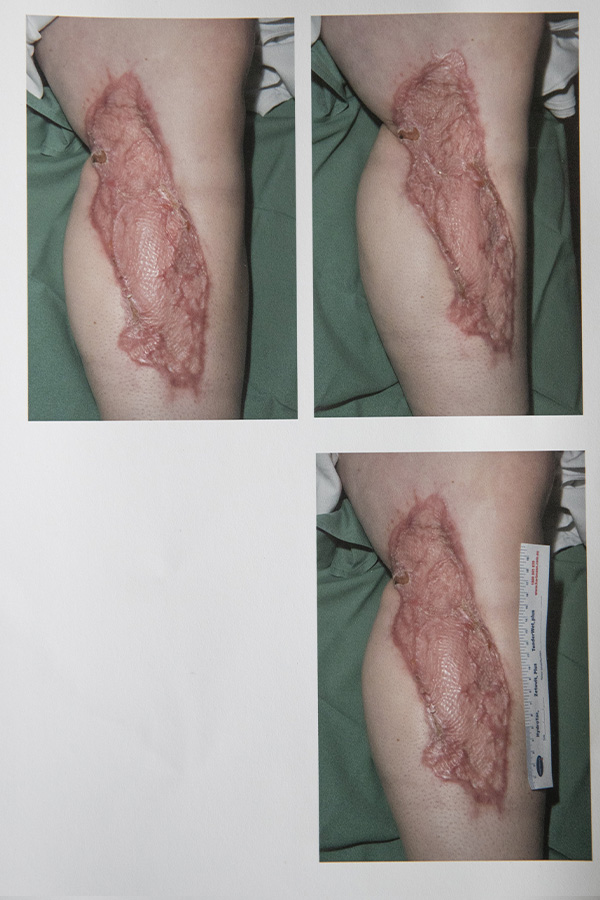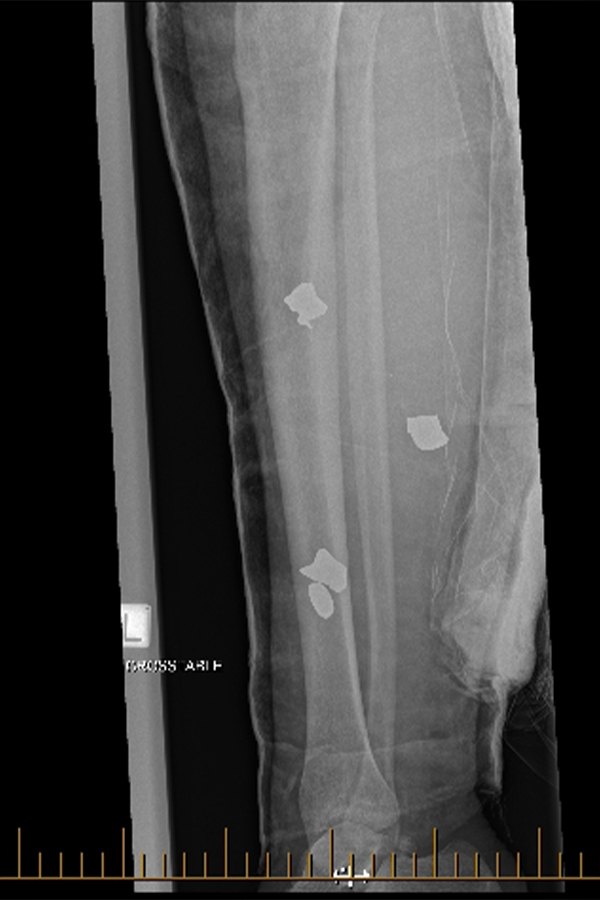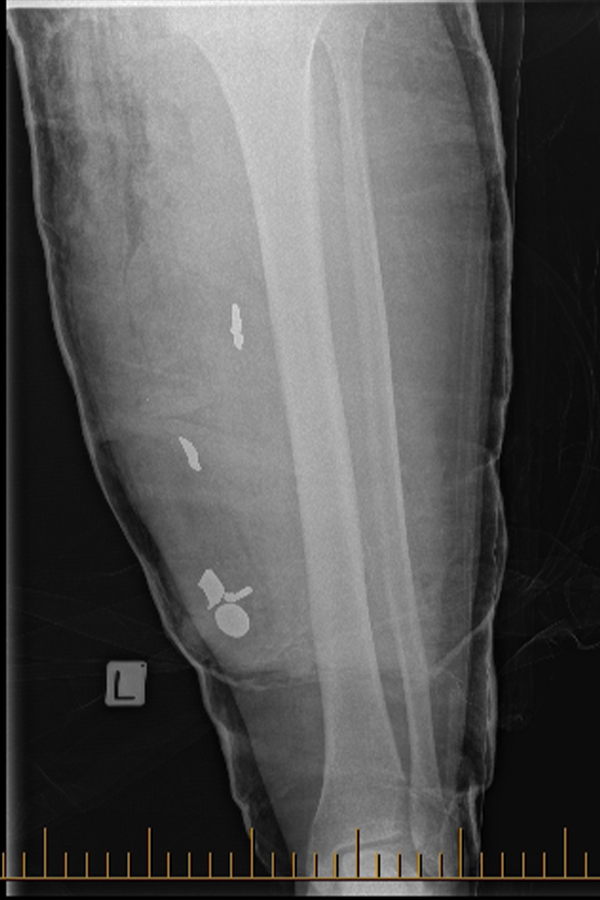 She was shot after trying to wrest the pump action shotgun from the gunman. When she ripped the balaclava from his head, it revealed the familiar face of /**span.text-highlight**/Doug Roake/*/*, whom she knew through her ex-husband.
In a messy series of events, her mother, Nicola, was also gunned down.
Doug Roake shot Michaela Dawson in the leg soon after she ripped the balaclava from his face.
Doug Roake shot Michaela Dawson in the leg soon after she ripped the balaclava from his face.
Roake, aged 23 at the time, had terrorised the Canterbury hospitality industry in the six weeks prior, carrying out five pub robberies. He turned up at the Newtons Rd home, near Rolleston, south of Christchurch, demanding cash and keys to a car - a Nissan Tiida - at about 10pm.
He targeted one more premises - the Turf Bar at Hotel Ashburton - about an hour later. But his crime spree was over. He'd been unmasked. The next morning he was arrested at the Rakaia Huts village at a family bach where he'd been holed up.
Three years on, though, mystery still surrounds the case.
Armed police arrested Doug Roake at Rakaia Huts, a settlement south of Christchurch, the morning after he shot the Dawsons.
Armed police arrested Doug Roake at Rakaia Huts, a settlement south of Christchurch, the morning after he shot the Dawsons.
Why did Roake, a man with no convictions who worked security at Richie and Gemma McCaw's wedding, attack the Dawsons?
And /**span.text-highlight**/what happened to the more than $100,000/*/* he stole from the various pubs?
The Dawsons are adamant they know the answer.
They believe Roake had help, and from someone they know. 
"There was no reason [for him] to come here and shoot two innocent women sitting at home watching TV on a Wednesday night. Why would you come … to a house off the beaten track? It's not near a pub with pokies and lots of money," Dawson says.
"I live in fear because I believe there's someone out there who could organise something against me and my family again. I don't think I'll ever get over it."
Her family are frustrated by what they perceive to be a lacklustre police investigation into the possible involvement of a third party. 
Dawson says a property where Roake had lived before his arrest wasn't searched for evidence and investigators seemed disinterested in information she thought was relevant.
"I don't believe the police have done everything they can. They were slow. They didn't react correctly."
Doug Roake fired two slugs from his shotgun when attempting to enter the Dawsons' home. One made a hole just above a lock in the front door.
Doug Roake fired two slugs from his shotgun when attempting to enter the Dawsons' home. One made a hole just above a lock in the front door.
The man the Dawsons suspect helped Roake was out of town at the time of the home invasion.
He asked to be left alone when contacted by Stuff, and cannot be identified for legal reasons.
In a written response to questions, Detective Inspector Michael Ford says Roake's offending is "subject to an ongoing review and investigation".
The third-party nominated by the Dawsons was formally interviewed by detectives on "multiple occasions" and denied involvement, Ford says.
Police have spoken to Roake several times since his arrest and he "maintains that he acted alone".
He has refused to discuss his motivations for the pub robberies or the attack on the Dawsons.
"There are many unanswered questions that only Mr Roake can provide the answers to."
Ford acknowledges the Dawsons' concerns about the investigation. 
"They are of the firm view that a third party is involved and this has no doubt caused them a lot of anger and frustration.
"With any investigation … with the benefit of hindsight we would always look at doing things differently when the full facts are known. With this investigation, given the facts at hand, police acted appropriately."
Ford says police looked closely at the property suggested by the Dawsons, but "we didn't have the evidential sufficiency to enter … given Mr Roake was no longer living at that address".
A CRIMINAL ENIGMA
There's little doubt Roake's assault on the Dawsons' home was well planned.
He'd sketched out an aerial view of the property on a piece of lined paper, pointing out the location of the house and other buildings, along with several cars.
On a separate piece of paper, obtained by Stuff, Roake wrote that he'd been to check out "a location" where he was going to secure the keys of "three different vehicles". He also outlined how he planned to approach the property and the need to be careful of animals, particularly dogs, that could "make a s... load of noise". Another note on the document detailed the need to keep a full tank of gas and stick to the speed limit so as not to attract unnecessary attention.
Neither, however, provides any real insight into Roake's offending.
There are few clues in his past either.
Roake was born in Lyttelton and grew up in what's been described as a loving and stable family.
At school, where he earned the nickname Fish because he was a good swimmer, his moods could be up and down. He never quite fitted in - some thought of him as being a bit strange - but he found solace in the drama department and enjoyed acting in plays.
After leaving school, Roake, who has Asperger's syndrome, worked as a labourer and a security guard and was interested in powerlifting and guns.
An action movie buff, he was not known to drink or take illicit drugs.
Roake's father, who asked not to be named, is unable to offer any explanation for his son's violent crimes, saying he doesn't expect to ever unravel the mystery.
"Why does a kind, generous, thoughtful young man suddenly turn?
"The money has never been recovered. If you find the money you might find another piece of the jigsaw."
He declined to comment further.
Doug Roake made notes about how to avoid detection while committing his crimes.
Doug Roake made notes about how to avoid detection while committing his crimes.
What is known is that on March 7, 2017, Roake visited a doctor and asked for help. He described feeling like he was in a "pressure cooker" and was worried about his anger and how to manage it. He was prescribed antidepressants and referred for counselling.
Three days later, at about 10.40pm, Roake walked into the Harewood Tavern in Christchurch with a pump action shotgun and a black rubbish bag. Wearing dark clothing, a black balaclava and rubber gloves, he pointed the gun at a patron, pumped it twice and told the duty manager to put cash from the safe in the bag.
"Stay still and I won't hurt anybody," he said.
He also cleaned out the tills in the TAB and the gaming machines, before leaving with nearly $20,000.
Over the next 40 days, before attacking the Dawsons, Roake, a licensed firearms holder, legitimately bought a series of firearms from local gun stores, including a now banned Soviet era military-style semi-automatic rifle, and held up another three pubs, targeting one of them twice.
As his crime spree progressed, so too did the seriousness of his offending. On March 29, he used a shotgun to blast his way into the Brickworks Bar where the doors had been locked to try and keep him out. And, on April 6, at the Springston Hotel, he fired a shot into the roof after the duty manager told him she was unable to access the safe.
By that time, police, fearing someone was going to be killed, were scrambling to try and catch the pub robber wreaking havoc in Christchurch and the surrounding rural areas.
They had a list of suspects, but Roake wasn't on it.
The break they needed came when he was unmasked at the Dawsons' home.
In August 2017, at Christchurch District Court, Roake was jailed for 13 years and eight months with a minimum non-parole period of six and a half years.
"Everyone has been baffled and casting about to try and find a rational explanation as to why you have behaved in this fashion. Your offending was not foreseen and it was totally out of character for the man that you were," Judge Jane Farish said during the sentencing. 
Through his defence lawyer Jonathan Eaton QC, Roake said he needed money to buy anabolic steroids that would give him an edge in the bodybuilding and powerlifting competitions he was obsessed with. He was already abusing legal testosterone-filled supplements, Eaton told the court, living largely on energy drinks. 
It wasn't much of an explanation. Farish described it as "bizarre".
'WE NEED ANSWERS TO FEEL SAFE'
Nicola Dawson remembers lying in an ambulance with a gunshot wound to her abdomen and paramedics telling her to "stay with us".
"I'm not going anywhere," the now 56-year-old replied.
Dawson was shot almost point blank as she charged at Roake with an ornamental vase lid "screaming like a banshee … 'don't you hurt my daughter you bastard'".
She recalls a "burning sensation" and her body becoming very warm, but there was no extreme pain.
Her pelvis had shattered and part of her bowel would later have to be removed.
"I think my body just went into shock."
Roake had emptied his shotgun's five shot magazine and soon fled the house empty handed, chased by Dawson's son Creighton, who lived nearby, and had responded to a cellphone call for help from his mother.  
Three years on, Dawson's clothes hide the physical damage of her ordeal - a 30cm scar down her abdomen -  but the psychological trauma is still evident. 
She becomes tearful as she talks about the impact Roake's attack has had on her life.
"I can't believe it happened. I still quite often will lie in bed at night and think 'How in New Zealand can someone come into our house and do that?'"
Dawson, whose husband Greg died in a diving incident in Akaroa Harbour in 2014, still lives in the Newtons Rd home.
She doesn't feel safe - none of her family do.
"I'm sure as hell scared every time my son and daughter leave my sight … and that's something I can't shake off. I'm terrified of something happening to them. 
"I know you can lead a horse to water and you can't make it drink, but there must be some way of getting some answers for us so we feel safe."
Design and Layout
Sungmi Kim
Become a Stuff supporter today for as little as $1 to help our local news teams bring you reliable, independent news you can trust.
Contribute Now

more special features from Stuff