A small boy cries in Lankien, a stronghold of anti-Government forces.
A small boy cries in Lankien, a stronghold of anti-Government forces.
Born out of brutality, South Sudan is the world's youngest country. It's also one of the world's worst - and most ignored - humanitarian disasters.
Half the country's 12 million people rely on aid to survive. Violence has forced one in three people to leave their homes, creating refugee crises in Uganda, Sudan and Ethiopia. But amid the chaos a handful of brave New Zealanders are helping to end the destruction and suffering, carrying out extraordinary work in one of the world's most dangerous places.
Andrea Vance and Iain McGregor investigate.

David Shearer stepped off the twin-turbine helicopter into the shimmering African heat. The rotating blades stirred up dust from the dirt landing strip and the mud underfoot was cracked and bone dry.
Just a few days earlier, most of the airfield was under water, after torrential rains brought severe flooding to large swathes of eastern South Sudan, and with it famine, disease and homelessness.  
David Shearer profile

Known to most Kiwis as the former leader of the Labour Party, Shearer has spent 30 years working in war-torn regions.

A teacher in the 1980s, he was first posted to Africa and the Balkans as a UN Humanitarian Operations co-ordinator. He then managed aid provision for the Save the Children Fund in Rwanda, Somalia, Iraq, Sri Lanka, and Liberia. By the turn of the century he was back with the UN, serving in Rwanda, Albania and Serbia.

But Shearer had his eye on one of the UN's top jobs: Special Representative of the Secretary-General, and a mentor told him to get some experience in politics. So, he returned to New Zealand to work for then Foreign Affairs Minister Phil Goff. After two years he was back with the UN, first in Afghanistan and then Israel and Lebanon. In 2007, he was appointed Deputy Special Representative in Iraq.

In 2009, he won the Mt Albert by-election and within two years was appointed leader of the Labour Party. In December 2016, he resigned from Parliament to head the UN's biggest peacekeeping mission in South Sudan. The vacancy he left in Mt Albert was filled by Jacinda Ardern, now Prime Minister.

Shearer, 62, is married to lawyer Anuschka Meyer and they have two children.

 
Shearer, head of the United Nations Mission in South Sudan (UNMISS) was in Lankien, a stronghold of anti-Government forces.
"OI-VIVA," [long live the Opposition]," local state governor Simon Hoth Duol chanted into a microphone, fist punching the air. A former general in the rebel army, Duol was surrounded by teenage soldiers.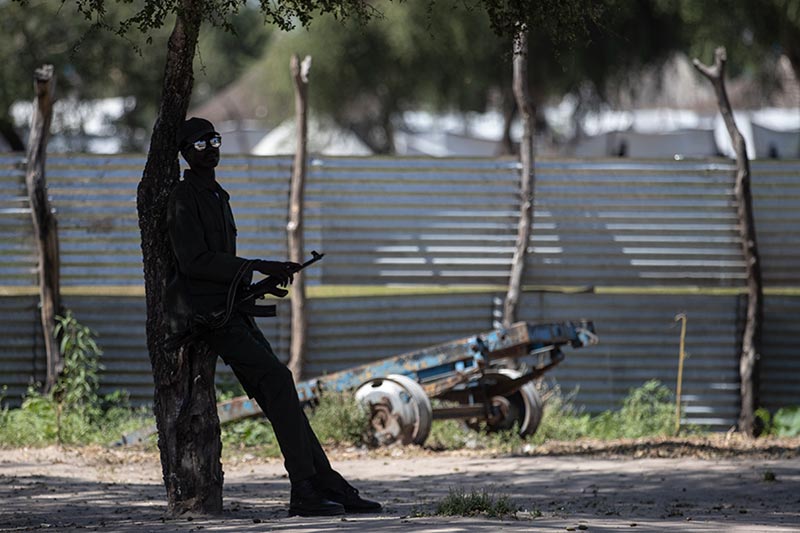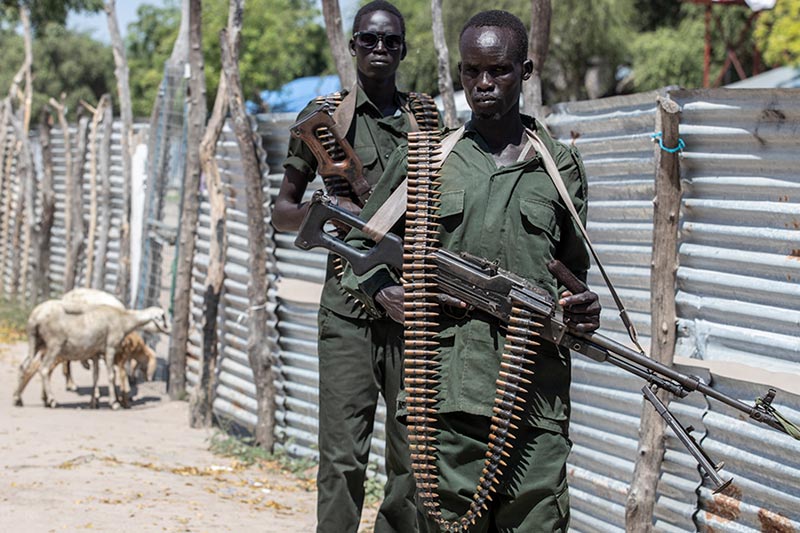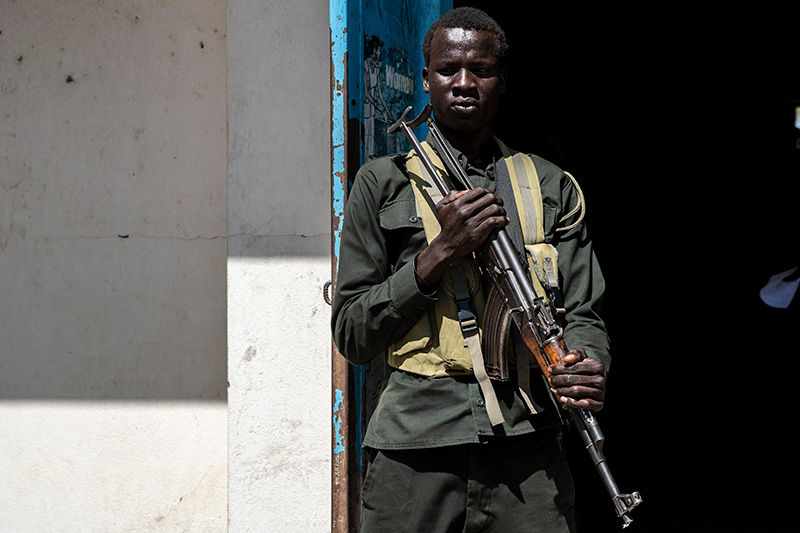 Eyes shaded by mirrored sunglasses, their fingers hovered over the triggers of AK-47 assault rifles, bandolier ammo belts slung sash-style over the shoulder. 
After six decades of conflict, those guns were supposed to have fallen silent when a peace agreement was signed in 2018. But the truce was tense and the country's terrified people still live under the shadow of those guns. They were also bearing the human and financial cost of generations of war, economic collapse and now, environmental catastrophe.
The scale of the flood disaster was enormous, even in a country used to suffering.
Almost 1 million people were directly affected, after months of flooding.
An estimated half of them were children.
Scores of villages and towns were submerged. Farms were destroyed, acres of crops lost, as well as the cattle, goats and chickens on which families depended for survival. Roads and bridges were impassable, cutting off communities from healthcare and basic services.
Water sources were contaminated with a deadly cocktail of bacteria, leading to an increase in malaria and acute diarrhoea. Aid agencies were steeling for a cholera outbreak.
Tukuls [local huts] on a flood plain close to Akobo.
Tukuls [local huts] on a flood plain close to Akobo.
The Government declared a state of emergency in the hardest-hit areas, where 5.5 million people hovered on the brink of starvation. Acute malnutrition rates among under fives rose from 13 per cent to 16 per cent. The World Health Organisation classified rates higher than 15 per cent as a critical emergency.
Shearer's visit brought a brief few moments of comfort to Lankien's residents who were struggling to survive after the water receded. The unrelenting rains drove 60 per cent of the surrounding rural population to seek refuge in the town, swelling its usual population of about 5000 and stretching already limited resources.
Crowds swarmed Shearer, eager to shake his hand. A young girl placed a string of beads around his neck, the coloured tassels chosen to denote his seniority. A woman's ululations drifted across the crowd, and a group of school children dressed in yellow and red Oxfam t-shirts began to sing.
"We are happy to see you," they carolled over and over again.
He had made the 500km trip north from the capital Juba to assess the scale of the humanitarian crisis. His mission is tasked with protecting civilians, smoothing the way for aid delivery and investigating human rights abuses.
Although the flooding is seasonal, in 2019 it reached unprecedented levels. It was driven by the "Indian El Niño", an unusual ocean weather pattern that brought flash floods and landslides killing almost 300 people across Somalia, South Sudan, Kenya, Ethiopia and Tanzania.
With famine stalking the population, Shearer had a deeper worry: that hunger and desperation would destabilise a very fragile, year-old peace.
"This is Jonglei, this area that we are in. And there's a saying that goes in South Sudan, that the war starts in Jonglei and ends in Jonglei," he explained.
"I've come here to talk about the peace process, to get an understanding of what's really going on, get their perspective and build their confidence in us.
"The worry is that people become disillusioned with the peace process. It's about running out of momentum, running out of enthusiasm for it. And then I mean, discouragement leads to frustration, leads to anger leads to violence.
"This is no different from any conflict that took, you know, generations to get over, the World Wars that we fought. It's gonna take the same amount of time to overcome this, and probably more because it's a civil war."
He was whisked into the Governor's fenced compound, trailed by his close protection officers and armed 'blue helmets,' the UN's multi-national peacekeeping troops. The windowless meeting house doubled as a classroom, with traces of the last lesson visible on the back wall.
It was packed full of UN officials and soldiers on one side of the room, and Sudan's People's Liberation Movement-in Opposition (SPLM-IO) supporters on the other. 
Across the yard, under the shade of an acacia tree, a UN human rights team was teaching high-ranking Sudan People's Liberation Army-in-Opposition (SPLA-IO) officers about conflict-related sexual violence. In 2018, UNMISS documented a surge in sex attacks, recording 238 incidents of rape, sexual slavery, gang rape, and forced abortion, involving 1291 victims, 153 of which were children.
Duol begged Shearer for help with the "looming famine and starvation". Children were being denied access to education, he said.
---
Over 10,000 primary school-going children are forced to stop learning because, one, they were displaced from their place of study and, two, most of their primary schools are flooded,
---
STATE GOVERNOR Simon Hoth Duol
But it didn't take long before his monologue, read from a typewritten speech, turned to politics.
A bloody civil war cost the lives of nearly 400,000 people over five years.
A bloody civil war cost the lives of nearly 400,000 people over five years.
South Sudan gained independence from Sudan in 2011, joining the UN as its 193rd member state. But just two years after its birth, it plunged into a brutal civil war, which killed almost 400,000 people and displaced an estimated 4 million more.
In 2018, a peace deal was signed - and warring factions had repeatedly missed deadlines to form a coalition government. Both sides were suspicious, claiming the terms of the deal were not being met, and that their rivals were stalling while they rally troops.
President Salva Kiir profile

Rarely seen in public without his trademark cowboy hat, Salva Kiir is a former rebel commander turned politician. The 68 year old comes from the Dinka tribe, and is the son of a cattle herder, and is a devout, teetotal Christian.

He joined the fight for independence from Sudan in the late 1960s and by the 1990s was head of the Sudan People's Liberation Army - the military wing of the Liberation Movement.

In 2005 they negotiated a peace deal with the Khartoum government, ending Africa's longest civil war. But SPLM's popular founding leader John Garang was killed in a helicopter crash, and Kiir took his place. In a 2011 referendum, the South Sudanese people voted overwhelmingly for independence, and Kiir became the country's first president.

In 2013 he sacked his cabinet, accusing Riek Machar of an attempted coup. The power struggle descended into fighting and sparked a five-year civil war. Machar is from the Nuer tribe, the second largest after the Dinka, and the spat was attributed to tribal tensions.

 
The exasperated international community granted President Salva Kiir and his rival Riek Machar a 100-day extension to sort out their differences. But that expires on February 22, and the country's terrorised citizens were holding their breath.
Riek Machar profile

Like his political enemy Salva Kiir, Machar was a rebel leader in the Sudan People's Liberation Army/Movement, fighting for independence from Sudan.

But he split from the SPLA/M and formed the splinter SPLA-Nasir. With help from Khartoum he fought the SPLA/M and in the the late 1990s became an assistant to Sudanese President Omar al-Bashir. In 1991 he was involved in the horrific Bor Massacre where 2000 people were killed. He made a public apology two decades later.

Machar eventually mended ties and returned to the SPLA as a commander, becoming vice president of the South after independence. But suspicions about his loyalty have always lingered, and in 2013 he was sacked by Kiir.

He fled the country and has returned only twice - once to sign a peace deal in 2018 and last year for talks to form a coalition government with Kiir.

Educated in Bradford, England, Kiir was married to British aid worker Emma McCune, who was killed in a car accident. He is now married to Angelina Teny, a former energy minister and high profile politician. They have four children.

 
A key provision of the peace accord was the integration of former rebel fighters into a unified army, but that plan had been dogged by a lack of funding. Opposition soldiers had been placed in military camps for training, but recently began deserting the cantonments because of miserable living conditions. Free of the barracks, they can create trouble in surrounding villages.
Duol, of the SPLM-IO, said there were 11,000 troops in the area, in three cantonments.
---
[They] do not have facilities such as water, shelters, medicines and food, making life difficult.
---
STATE GOVERNOR Simon Hoth Duol
Security in the region was also shaky. Traditional rivalries between the Murle and Nuer tribes have seen cattle-raiding, child abductions and revenge attacks.
Clashes between rebel and government forces displaced thousands of people, and fighting sporadically breaks out.
Clashes between rebel and government forces displaced thousands of people, and fighting sporadically breaks out.
The UN's support of the revitalised peace process was crucial, and as Special Representative of the Secretary-General (SRSG), part of Shearer's job was "behind the scenes" shuttling between the Government, and the various opposition groups.
"This area has been peaceful for the last number of months," he told Duol and his supporters. 
"The ceasefire has held. We want to make sure it continues. We know that the soldiers are in cantonments here. They have been brought together, but they are lacking food and medical supplies in those cantonments. We want to make sure that we solidify the gains that have been made here so that we are able to move forward much more easily."
Outside the compound, as the VIPs talked,  children played under a well tap as their mothers pumped clean drinking water. Behind the fence, out of sight of the dignitaries, a crying baby crawled in the dirt, naked and covered in flies. His brother, little more than a toddler, tried to comfort him, knees buckling as he struggled to pick up the infant. Their mother sat nearby on an upturned pot, tending a boiling fish stew.
The helicopter flew Shearer south to the ancient market town of Akobo. Circling low over the swampland, the roofs of hundreds of deluged tukuls [huts] dotted the muddy waters. 
The town's UN base was targeted in a deadly attack in 2013, which killed at least 20 civilians and two Indian peacekeepers.
About 2000 heavily armed Nuer youth opened fire on Dinka people seeking refuge inside, and then raided the compound for arms and ammunition.
A woman displays traditional tribal scarification.
A woman displays traditional tribal scarification.
The two tribes - the most populous in South Sudan - have been at each other's throats since at least the 19th century, but ethnic violence has further complicated the peace process and the fighting was most bitter between their factions.
Since the 2018 détente, local people began returning from Ethiopian refugee camps to Akobo.
The market thoroughfare, lined with neem trees stretching their parched branches to the Pibor River, was thriving once again.
But heavy rains burst the riverbanks, sweeping away tukuls and tonnes of crops planted in expectation of an abundant harvest.
Market stalls were replaced with queues of women, lining up for sorghum doled out by Unicef. The grain was supplemented by dried river fish - vegetables were too expensive. A single onion was selling for US$2. About half of South Sudanese earn less than US$600 a year.
Wells were contaminated and basic infrastructure was ruined. Even the UN compound was damaged, with tents and equipment quagmired in thick mud.
The UN returned to Akobo in 2018, with Indian peacekeepers establishing a temporary base in the town.
The UN returned to Akobo in 2018, with Indian peacekeepers establishing a temporary base in the town.
Shearer re-established the base here in 2018 - the first in opposition territory. It will double in size in the dry season - when fighting tended to break out. A new UN radio station will also broadcast messages "of peace".
"It's very strategic, it's in an opposition-held area. It's also very close to the Ethiopian border.
"We felt that if we were able to locate ourselves here, we'd bring more humanitarian agencies, who'd feel more secure.
 "It also makes people feel a lot more confident about the security," Shearer said.
---
People who are displaced - it gives them confidence to come back to their homes again.
---
David Shearer
Children play in the Pibor River, in Akobo.
Children play in the Pibor River, in Akobo.
As the top UN official, Shearer's job was part politician, part aid agency boss and part army general. 
Almost 16,000 peacekeeping troops are deployed to South Sudan, with another 4000 police and civilian staff, from at least 60 different countries. Shearer presides over a US$1.2 billion budget. 
They were headquartered in Juba, across two sprawling compounds: UN House, in the west of the city under the shadow of the Jebel Kujur mountain, and Tomping, on the fringes of the city's airport.
Shearer lives in a gated bungalow at UN House, surrounded by fences and security cameras.
When Stuff visited, he was hosting a pre-Christmas barbecue for a handful of New Zealanders working in Juba. 
The quiet afternoon beers were interrupted by an urgent call to his cellphone. Violent clashes brought the death of 79 people in the Great Lakes region. About 100 were injured. Sparked by a cattle raid, the fighting was between two traditional rival communities: the Gak and Manuer. 
Shearer wanted to deploy peacekeepers, but heavy rains made the roads impassable. In the end, 75 Nepalese troops and heavy equipment were flown in to Rubek, 100km north of the fighting.
Sixty nine UN personnel have lost their lives in South Sudan.
Sixty nine UN personnel have lost their lives in South Sudan.
"Some of this fighting has been going on for many, many years," Shearer said.
"But now there's automatic weapons, machine guns, RPGs [rocket-propelled grenades]… so it's not uncommon in one raid that 20 people can be killed. And then there is retaliation and revenge and a mounting death toll that occurs.
"The peacekeepers go, separate both sides, call a pause and then you are able to bring the elders and the leaders together to see if they can quieten their sides down."
But the peacekeepers themselves often come under attack. Since its inception in 2011, UNMISS has endured 69 fatalities, including the death of Bangladeshi Lieutenant Commander Ashraf Siddiqui, who was killed in an attack on a convoy of peacekeepers trying to protect humanitarian workers. He'd been in the country only six weeks.
"We were ambushed," Shearer said. "That's always very sad going along to the funeral of your peacekeeper."
His mission shelters nearly 200,000 people who have been forced from their homes. Known as internally displaced people (or IDPs) they have remained within their country's borders. The UN hosts them in protection of civilian - or POC sites - attached to bases in five locations. 
A week earlier, UN staff were attacked at the Bentiu POC, in the north. It houses more than 100,000 people in a sprawling tent city.
"We had one of our vehicles fire-bombed and an armoured personnel carrier had a Molotov cocktail hit it. Two of the people in the POC camp were killed and our police were injured. Twelve of them were injured by rocks… that was just one day period, and that's not uncommon."
Although a peacekeeping mission is mandated by the UN's New York-based Security Council, its presence must come with the blessing of the host country. Shearer admitted it was an uneasy relationship. 
Ordinary citizens were welcoming: in a poll of 2300 South Sudanese, conducted last year, 72 per cent said they felt safer because of the presence of the peacekeepers. 
In a POC camp in Juba, just a couple of miles from Shearer's home, 32-year-old Nyayou Mayel explained how the mission saved the lives of her family.
The mother-of-five fled to the camp in 2013. "When the war broke out, I never knew there was a UN mission to protect us. But we heard [about it] through people and decided to run. Maybe they can protect us? So we came direct to this POC camp [six years ago].
"I can't go home. How will the children survive? We don't have any support, no money, no cows, no food, no shelter. All this was lost during the crisis."
Nyayou Mayel comforting her youngest child Chivdi.
Nyayou Mayel comforting her youngest child Chivdi.
But Government officials did show resentment towards the UN.
"We arrive in a country, our budget is more than two times bigger than the country's whole budget… they've just gained their sovereignty," Shearer said.
"They're very proud about their sovereignty. And then along comes the UN, in force. 
"So I understand how they feel, and we've got to tread carefully.
"We've had times where we got very offside with the Government for various reasons. And then our planes were grounded. We were running out of fuel in different places because the Government was refusing to allow us to fly.
"It's just something you just have to negotiate and work through."
The UN tried to win hearts and minds by building capacity and infrastructure. Over six months last year, engineers rebuilt 2500km of roads along major routes. It established a mobile court, to expedite cases in the country's paralysed judicial system.
Shearer has also established a trust fund to pay for community projects. So far it has raised $25 million for schools, health clinics, wells or for sending mediators into disputes. 
"It's funding some really interesting programmes, but also bringing people from the countryside ...to Juba to talk to the national politicians.
"[They tell them:] 'You guys should get your act together, we've made peace in our areas. And now you need to make peace for the whole country.' It's been a very powerful message. It's quite exciting to see these people do it."
Shearer has been involved in nudging along the warring parties to form a unity Government. The United States - a key backer of South Sudan since its 2011 independence, spending US$11bn in aid - has lost patience.
In November, it withdrew its ambassador from Juba, and imposed sanctions on key figures in January. The Trump administration also wants to reduce its share of the peacekeeping budget.
Shearer, a veteran of conflict in Iraq and Somalia, has more confidence. 
"I'm an optimist, I mean, you have to be in this job… if you're negative then you may as well get out because you'll go nuts."
Nyayou Mayel said hope for her children was the only thing she had left. She ran from horrific violence in Bentiu, the capital of oil producing Unity State and one of the worst-affected areas of the brutal conflict.
She is Nuer, a tribe that was seen as loyal to opposition forces and targeted because of their ethnicity. Hate speech was broadcast on local radio stations, ordering groups to leave town and men to carry out vengeful rapes on women. 
Her 19-year-old daughter Kashra was sheltering in a UN refugee camp over the border in Uganda. She wouldn't say where her husband is. Her other four children live with her at the POC site in a cramped, mud-packed shack.
As she breastfed Chivdi, her youngest daughter born a year ago in the camp, she said: "The life here is difficult, and because there is nothing, there is no alternative, [we] exist.
---
The food is not enough, the little we are given, just one bucket of sorghum. It is for one person, not enough for the whole family.
---
Nyayou Mayel
She didn't have much confidence in the peace process. "I don't have hope. The future will be in God, but I don't trust the leaders of South Sudan."
She would like her children to study business.
"The future of the children is the way they are learning, at school. If they are still alive, so then they have dreams. When the country gets better, when the security is OK, then they will… have a good country with a future."
---
Words: Andrea Vance
Visuals: Iain McGregor
Design & layout: Aaron Wood
Editor: Warwick Rasmussen
Executive Editor: Bernadette Courtney
---
more special features from Stuff