It's just before lunchtime at the sushi place in a busy Auckland mall and everything seems typical - except for the blank stares coming from behind the counter.
They look - and are - completely perplexed. What has stumped them is a question which shouldn't be hard: what sort of tuna is this sashimi?
"Um, fresh?" says one attendant.
She goes to get a colleague.
"Do you know what species this is, where it's from?" we ask.
"Um, no. This salmon is from New Zealand, but the tuna, I don't know."
During a random survey of sushi operators, this was not unusual.
In a world where consumers are demanding more information about what's in their food and where it comes from, fish, it seems, has some way to go.
And there are growing calls for that to change; that when you buy sashimi or order tuna at a restaurant, you should know where it came from, how it was caught - and what conditions the people who caught it endured.
Because there is evidence that, globally, elements of the fishing industry are engaging in modern day slavery.
Glenn Simmons, an academic researcher from the University of Auckland, believes consumers are the only force with the power to stop it: if they demand transparency and change, the industry will react. And why shouldn't we know more?
Some within the industry get that, and are adapting.
"Certainly provenance is very important to the chefs we are working with here in New Zealand and continues to be a growing trend within the foodservice business," says Rachel O'Reilly, a director of Lee Fish New Zealand.
But not everyone is taking the same stance. This Stuff Circuit investigation into slavery on the high seas and to uncover whether fish tainted by those practices ends up in New Zealand encountered resistance from some within the industry, with questions going unanswered. Some parts of the supply chain proved impossible to trace. And there are curious connections between a huge international player and a company in New Zealand.
Which begs the question: do we really know where our tuna comes from?
Death came in the night for the captain of the Tunago No 61, his screams carried away on the high seas west of Easter Island.
Though there had been plenty of talk on board about what was about to happen to him, he hadn't seen it coming. When it did, it was brutal, roused in his cabin and stabbed and slashed 41 times by six crew members.
It was a savagery his killers say was provoked. From prison, one of them tells Stuff Circuit what conditions they were facing on board: "I say to my friends...this not human beings, this not humanity."
Nothing, they know, excuses murder. So what drove them to do what they did?
And why is violence at sea not uncommon?
What is going on aboard deep water fishing boats?
"Captains are dying, crew are dying," says investigator Tim McKinnel, a private investigator who has been examining the deep water tuna industry for Greenpeace, for a report due out on Thursday.
"It is chaos on the high seas. There is an abundance of evidence that supports that.
"It's madness what is going on on the high seas in the name of tuna."
The saga of the Taiwanese-owned Tunago Number 61, and the murder of the Chinese captain by his Indonesian crew, has its sombre end in the Pacific island nation of Vanuatu. Such a tangled international web is a statement itself about the tuna industry. Taiwan is one of the major players, with its boats having pushed further and further out from its ports in pursuit of fish.
In the western and central Pacific alone, Taiwan has 1600 flagged vessels licensed to operate.
The crews come from a variety of nations, often from developing countries of Asia, while the captains are often from Taiwan or China.
What's the Vanuatu connection? The answer lies in the flags flown by boats like the Tunago Number 61. Vanuatu allows countries to fly its flag, through an arrangement with a private company that has a contract with the Government to offer low-cost maritime services.
So even though the Tunago Number 61 was owned by a Taiwanese company, when the murder happened on the high seas, it fell to Vanuatu to deal with it.
The boat had set out on May 7, 2016 from Kaoshing in Taiwan. To the crew, things quickly felt wrong.
From their prison cells in Vanuatu, where they are now serving an 18-year sentence for murder, the six Indonesian men tell us their experiences.
Andi Riyadi was just 22 years old when he started working on the boat, his first fishing job. A friend had suggested it to him as a well-paid position.
"I think he always lie to me, he says the fishing boat is very good job, very nice but one you must be strong. And I not thinking about what work what happen in the sea just I want to join and then take the money."
He says he was promised US$300 a month - a fortune compared to what he could earn in Indonesia. In the end, though, he never received anything for his four months on the boat.
Campaigners say it's not uncommon for fishermen to receive less than they've been promised as fees and recruitment agency commissions are deducted; neither is it unheard of, Tim McKinnel and Glenn Simmons say, for crew to never be paid.  
While he was at sea, though, Andi's immediate thoughts were to more pressing issues. How there was not much food (they were forced to eat pork, despite being Muslim, and fish bait, he says), and how sleep was often just three or four hours a day.
Once, he says, he worked three days straight. "Eyes still close up, but hands still work."
No wonder, then, that accidents happened. Andi's hands are covered in scars from hook and knife wounds, and one of his fingers is bent, likely a break that never healed.
Andi says he asked the captain for medicine for the pain, but never received any.
"He slap my arse and then my head. And then two time he punched my face. And then...he say, 'If you ask again the medicine, I will kill you'."
Relations with the captain, then, were clearly not good.
There were also, Andi says, threats of rape.
Another of the prisoners, Riva Prangga Kliswanrio says the captain would abuse them and beat them. Riva had never been a fisherman before, and did not receive any training, so, naturally, he would make mistakes.
"Captain come make some bad treatment like a slap...kicking," says Riva.
He remembers the captain once slashing Andi with a knife. The Indonesian members of the crew (there were also Vietnamese and Filipinos on board) began to get angry.
Riva says a decision was made to do something about it. But he won't say more, the gruesome details are too painful, and he's embarrassed. "I'm sorry, I can't tell," he says.
Andi, though, is more forthcoming. He says initially, they tried to get off the boat, to get hold of the agent and move boats. But the captain, he says, wouldn't let them.
Eventually, the Indonesians made a fateful decision.
Andi describes what was said amongst them: "Take everything you can see...hammer, scissor, knife, or whatever you take it, and then kill him."
The six of them burst into the captain's cabin and overpowered him. They placed his body in the freezer.
The boat went to the nearest port, Suva, and the men were eventually extradited to Vanuatu.
The judge who presided over the case called the killing brutal, premeditated and merciless.
The ferocity and frenzied nature of the attack was evidenced by the 41 slash and stab wounds, leading the judge to say the court had never seen a such a case of "wanton uncontrolled violence with such a disdain for human life".
Two months ago, Stuff Circuit began approaching companies which import, wholesale or retail fresh or frozen tuna. We wanted to find out what we could about the supply chain, particularly for imported yellowfin, albacore, bluefin, and bigeye.
Those are the species which are most at risk of being slave-tainted. Skipjack, which is the species most commonly used in canned tuna, is mostly caught by purse seine vessels (which use a net) as opposed to long-liners (which use long lines of baited hooks). (The crew of deep water long-liners are more likely to be at risk of labour abuses, partly because of the length of time those boats spend at sea: they're infrequently in port, giving little opportunity for crew to jump ship)
Some companies we approached came back to us straight away, open and upfront about their suppliers.  
Rachel O'Reilly, at Lee Fish NZ, which also has business connections in the United States and Europe, says their imports, when they do bring fish to New Zealand, come from Tahiti. "One of the key drivers for selecting product from Tahiti was their level of sustainable fisheries management which includes operating under a controlled licensing program, only permitting long-lining in their territorial waters and the use of Tahitian flagged vessels only (which primarily employ local fishermen)," she says.
Sealord immediately responded, saying it only imported skipjack (which is not usually caught by the deep water fishing boats), and pointing us to its website which lists its suppliers (Thai companies CMC and Pataya).
"We take our commitment to sustainability very seriously – also the importance of transparency of the food supply chain as I agree with you consumer interest in where their food comes from is growing, and rightly so," a spokeswoman says.
Shore Mariner, which says it imports yellowfin tuna caught in Indonesian waters, requires its suppliers to be audited for ethical practices.
"Shore Mariner takes our social, ethical and sustainable responsibility very seriously and we are always as transparent as commercially possible," a spokesman said.
Others in the industry, though, were less forthcoming. Several companies registered as importers with the Ministry for Primary Industries just didn't even bother to respond.
Others were elusive with their answers. Only four of the 14 importers and wholesalers we approached told us the names of the suppliers they deal with.
One company, though, to its credit, was at least polite in its point-blank refusal to answer anything.
"Thank you for the opportunity to participate in your research story concerning the sustainability and impacts of tuna fishing," wrote Hawkes Bay Seafoods. "Unfortunately we must decline at this stage to be included."
The point of our investigation was two-fold: to figure out the supply chain and see what it told us; and to find out what conditions were like on the high seas.
The case of the Tunago Number 61, and those fishermen imprisoned in Vanuatu, provoked a more basic question: what would drive anyone to an act of "wanton uncontrolled violence with such a disdain for human life".
Former policeman, private investigator Tim McKinnel, has looked at the case for Greenpeace and met the crew members. "It's an awful case," he says. "And when you examine the conditions the crew were facing in the lead up to the killing you can't help but worry about their state of mind when they committed that act."
When challenged about the "brutal, premeditated and merciless" nature of the crime, as described by the judge, McKinnel says: "You could equally use those words to describe their treatment in the lead-up. These guys are relatively stoic but when you talk to them you can see what they've been through."
McKinnel is a stoic individual too. He's seen a lot in his career, and knows all about injustice, having exposed the Teina Pora miscarriage of justice case.
But he thinks what's gone on here reeks. "This isn't a matter of saying, 'let them go'. This is a matter of saying what's proportional punishment for what they did and let's properly understand the circumstances that led them to do that, because I think there are some really strong mitigating factors.
"But not only that, let's not just look at this case, let's look at the overall treatment of migrant crew on board Taiwanese fishing vessels because this has happened before and it will happen again."
360 degree video tour of Vanuatu's prisons
If this video doesn't work for you, try YouTube instead.
In Taiwan itself, Greenpeace staff have been investigating the tuna industry for years, often at personal risk, with threats and intimidation swirling around.
Oceans programme leader Jodie Yi Chiao Lee admits to being nervous about the work, but keeps going because she wants to help the foreign crew who are exploited on Taiwanese boats.
"The first time I got into the investigation I was terrified. But I thought about this group of people who are the lowest voice in society and I want to make a voice for them and I want to make the system change."
As she talks of the fishermen she has met in the course of her work, she breaks down in tears and has to regather herself. "A lot of them just have the dream of going back to their families and making a home…"
Her distress is in thinking about those who suffer, and those who don't make it home.
"Wherever I went, wherever there were deep-water vessels, more than 90 per cent of crew were facing labour abuse issues, some of them even more troubling abuse like human trafficking."
Human trafficking became a particular focus for Greenpeace in 2014 after Cambodian authorities prosecuted a Taiwanese-operated recruitment agency. The company, Giant Ocean, was accused of recruiting hundreds of Cambodian men for Taiwanese fishing boats in a human trafficking ring.
Cambodian media reports say the victims claimed they had been tricked about working conditions, and subjected to physical abuse, death threats and sleep deprivation.
Five of the company's Taiwanese directors and shareholders were tried in absentia and found guilty, sentenced to 10 years imprisonment and ordered to pay compensation. They have never been located by Cambodian authorities.
Late last year, Greenpeace learned the five convicted shareholders and directors were in Taiwan, and that two of them were still working as crew agents, still actively recruiting fishermen.
Not only that, the two men's roles were officially sanctioned by the Taiwanese government as working for authorised recruitment agencies.
Lee says she is appalled by the message the "passive acceptance" of the authorities in Taiwan sends to migrant crews. She says it is a "silent encouragement" of human rights abuses.
The Taiwanese Fisheries Agency told Stuff Circuit that authorities in Taiwan had asked Cambodian officials for information about the Giant Ocean case, but none had been forthcoming. Since Taiwanese authorities had been unable to establish for themselves if there had been any exploitation, the case had been closed "since there is no supporting evidence for the alleged offence", says the agency.
Neither, the agency says, does it have any ongoing interest in the Tunago Number 61 case. "Since the flag state of the said vessel is Vanuatu, and six Indonesians have admitted to murdering their Chinese captain...Taiwan has no jurisdiction over this case," says the agency.
That response doesn't surprise McKinnel. After two years of investigating the deep water tuna industry, he's appalled.
"That's not to say every fishing vessel and every company treats people like this," he says. "You meet crew that are happy with their work and happy with their pay and are relatively well treated. I think we need to be careful not to cast a Western eye over the conditions they live in and what they're paid and sort of make judgemental views on it."
But he thinks the Tunago Number 61 case, the Global Ocean case, and others speak volumes about the industry as a whole and the overseeing of it.
"These are all cases where it's not acceptable - it's outrageous, it's obscene what's happening to these humans on board these fishing vessels."
As well as approaching importers and wholesalers, Stuff Circuit asked retailers and restaurants selling fresh tuna (not canned, remember) where their fish came from.
The majority didn't bother to respond. Maybe they didn't know the answers.
The two major supermarket chains did reply.
Countdown told us they dealt with Shore Mariner (the supplier which imports yellowfin from Indonesia).
Foodstuffs, which operates the New World, Pak n Save and Four Square supermarkets, says it sells Pacific-caught fresh yellowfin and bigeye tuna when available, mostly from its main supplier, Pendarves Ltd.
Perhaps tellingly, it volunteered without prompting that it did not source fresh tuna from Asia, and that it "would never knowingly stock a product that is the result of illegal business practices or slave labour. We acknowledge the seriousness of these issues and we actively work with suppliers to ensure that any product sold in our stores comes from a supply chain that is operating with integrity and good practices for all workers". The sushi chain St Pierre's, which has about 25 stores in Auckland and operates in nine other cities and towns around the country, said it only used skipjack tuna, supplied by Thai Union, one of Thailand's main tuna companies.
But this was at odds with what staff in stores told us, saying that tuna sold in sashimi packs was yellowfin. A spokesman for St Pierre's later admitted that the company was wrong with its initial response and confirmed that the sashimi sold in stores was yellowfin from Indonesia.
You have to wonder: should it be so hard to find out simple answers?
Of the restaurants, the only one we approached which got back to us was SkyCity. A spokeswoman told us its imported fresh tuna comes from Fiji, Tonga, and Mexico.
She said the suppliers were subject to "careful due diligence...with ethical sourcing being an important consideration".
But on the question of who those suppliers were, she refused to say, "for commercial reasons".
When asked what those commercial reasons would be, she didn't respond.
It seems a curious position for a restaurant to take: The price they pay? Sure, that seems commercially sensitive.
But the name of the supplier and details which might enable a customer to figure out for themselves if the tuna has been caught on a boat free of slavery?  
Restaurants are happy for customers to know where drinks come from, for instance. Take a look at all the branding and information for alcohol - wine lists will tell you what brand, what year, what vineyard the product you're considering comes from.
So how come there's so much commercial sensitivity around tuna?
In May, 2015, the tuna long-liner Fu Tsz Chiun, set sail from one of Taiwan's largest fishing ports, Donggang, with seven Indonesian crew members on board.
The Taiwanese-flagged and owned vessel is registered to fish in the Western and Central Pacific Ocean, a region which is home to vast populations of tuna.
Ships bring the 28m long-liner fuel and other supplies and off-load the fish caught and stored in its freezers enabling the Fu Tsz Chiun to stay at sea for months.
But within two months, it had gone horribly wrong.
On July 26, crew member Urip Muslikhin was reported missing, allegedly swept overboard while fishing in heavy seas. Officials say the boat searched for him for three days without success.
A month later, on August 25, officials in Taiwan were notified that a second crew member, an Indonesian solo father of three, Supriyanto, had been found dead on board.
Fishermen die at sea naturally, of course. But evidence from on board the Fu Tsz Chiun, and from other crew members, would emerge to suggest that what had happened to these two men raises serious questions.
In the case of Urip, analysis from Global Fishing Watch obtained by Greenpeace contradicted the official story that the boat had searched for him, suggesting instead that it had continued fishing.
The most graphic evidence from the boat concerned Supriyanto. Photos and video filmed by a crew member show how he deteriorated horribly and suffered before dying.
The videos unfold over a period of about a month. Initially he shows wounds to the camera and says he has been beaten. Then his head is swollen and in bad shape and he appears groggy.
Finally, and grotesquely, Supriyanto is a dying skeleton. His bones are protruding and his skin has obvious scars. He's unrecognisable.
A post mortem examination shows Supriyanto died of sepsis (blood poisoning) and had other injuries.
Once dead, he'd been placed in the freezer and the boat kept fishing.
The Taiwanese Fisheries Agency told Stuff Circuit it accepted criticisms of its initial investigation into Supriyanto's death, and that it would co-operate with a new court-led investigation. It has also asked the court to investigate if a copy of Supriyanto's employment contract provided by the recruitment agency was in fact "falsified to mislead the officials".
The deaths aboard the Fu Tsz Chiun are a horrible tale of what is done in the name of getting tuna to western dinner tables.
Glenn Simmons, the Auckland University researcher who has studied the fishing industry for years, has investigated the cases and met Urip and Supriyanto's families.
Urip's widow was told by the fishing company he slipped and fell overboard, an explanation she never accepted. Simmons said Urip was pulled overboard, probably by a tuna or shark.
"While my visits gave her comfort and closure, the reality for her is that life [will] be much harder and now she must support herself," Simmons says. "Every day her [four-year-old] son asks, 'where's Dad? Why doesn't he come home?'"
Simmons says Supriyanto died a "truly horrific death" over quite a period, but is reluctant to say much more because of the ongoing investigation in Taiwan.
What he will say is that it is not unusual.
"It's well-known that the fishing industry is one of the most dangerous activities in the world," he says. "And there is a huge loss of life. Another case that springs to mind probably 18 months or a year before the Supriyanto case was when six or seven Indonesian fishermen starved to death on their fishing boat."
It seems incredible - men starving while there is fish in the hold of the boat. What does it say? "The tuna is more valuable to those captains and companies than the human life on board," says Simmons.
He estimates that there are up to 45,000 undocumented workers plying the Pacific on fishing boats, mostly from developing countries.
Because they've left from ports without showing any documents to border officials, their own governments don't know they've gone.  
"For all intents and purposes they don't exist, they are an invisible workforce. So if they don't go home, nobody knows, only their families. After two years they might hear something or it's just that dad went fishing and didn't come back."
When they sign up, the fishermen know their life is going to be hard with long hours, says Simmons.
"What they don't expect is to be deceived about their wages and they don't expect to be beaten and tortured and starved. And raped."
So if retailers and many suppliers won't tell us where tuna sold in New Zealand comes from, what does official data tell us?
When you compare official catch figures with export figures, you see that most tuna caught in New Zealand is exported, especially albacore and skipjack.
So the tuna we consume, mostly, is imported.
Fiji is by far the largest source of fresh, chilled and frozen tuna - in 2017, almost four times as much came from there as the next biggest country (Indonesia). Two other Pacific Islands, Samoa and Tonga, are also in the top five.
Taiwan was number four, but that was frozen skipjack or bonito, probably for bait.
Most of the tuna was fresh or chilled yellowfin, the vast majority of which comes from Fiji.
Fresh and chilled tuna is far less likely to have come from boats which have labour issues which is logical when you think about it - if the boats are regularly coming to shore to off-load their catches, the crews have more opportunity to escape oppressive conditions or abuse.
Frozen tuna is more likely to have come from deep water vessels, where investigators and NGOs have noticed more problems.
It's also harder to trace exactly where frozen tuna has come from. An import declaration for imported frozen tuna may say it comes from Fiji, for instance, but that might not be where it was caught, a Customs official confirmed.
"Customs does not know where the fish was caught, unless it is specifically stated on a catch document or invoice," says a spokesman. "The fish therefore may have been caught within or outside territorial waters."
The origin of some frozen tuna can be untangled - for instance, the product imported from Indonesia is caught in Indonesian waters under an audited programme, according to the importer.
But proving the provenance of some imported frozen fish is impossible. For instance, in our initial inquiries, Customs released figures under the Official Information Act showing that 59,000 kg of frozen albacore was imported from Fiji last year.
But after questioning, it admitted that the customs broker had entered an incorrect code and that, in fact, it was frozen, ground albacore meat. It also had to correct figures going back to 2007.
Eventually, it turns out, more than 450,000 kg of the frozen tuna product has entered New Zealand in the past decade, but it's not for human consumption - it's petfood. (Even though those in the petfood industry had previously told us they didn't believe it was them).
Customs admitted that it had no idea where the fish was actually caught. "We have no access to the catch records," says a spokesman.
So, in the case of that product, and some other frozen tuna, where did it really come from, and, more importantly, what were conditions like for the fishermen?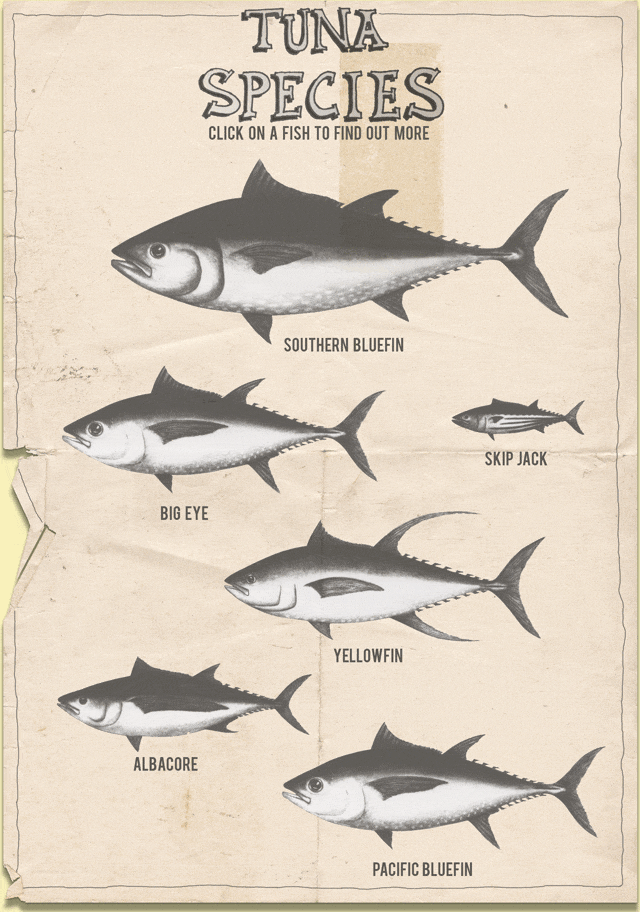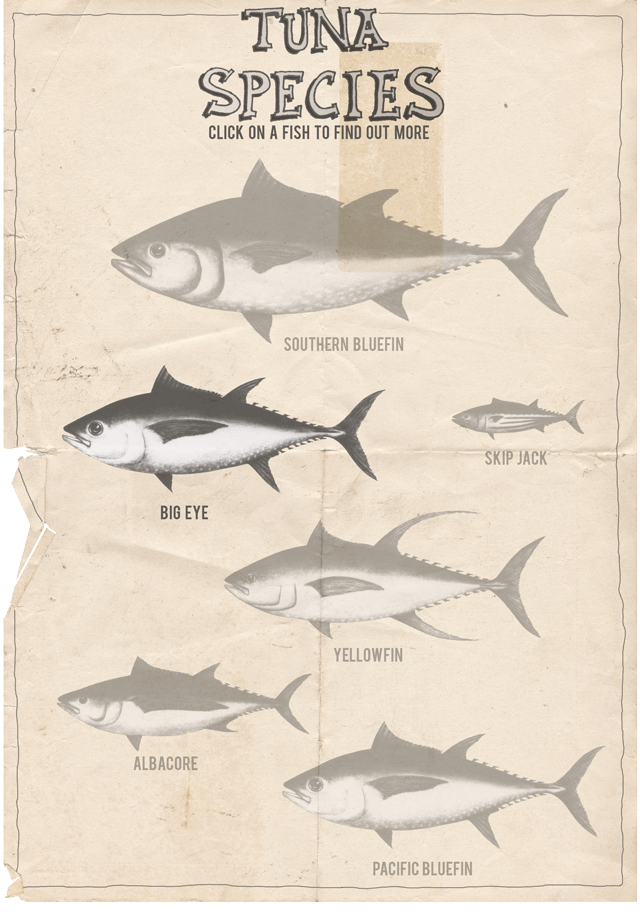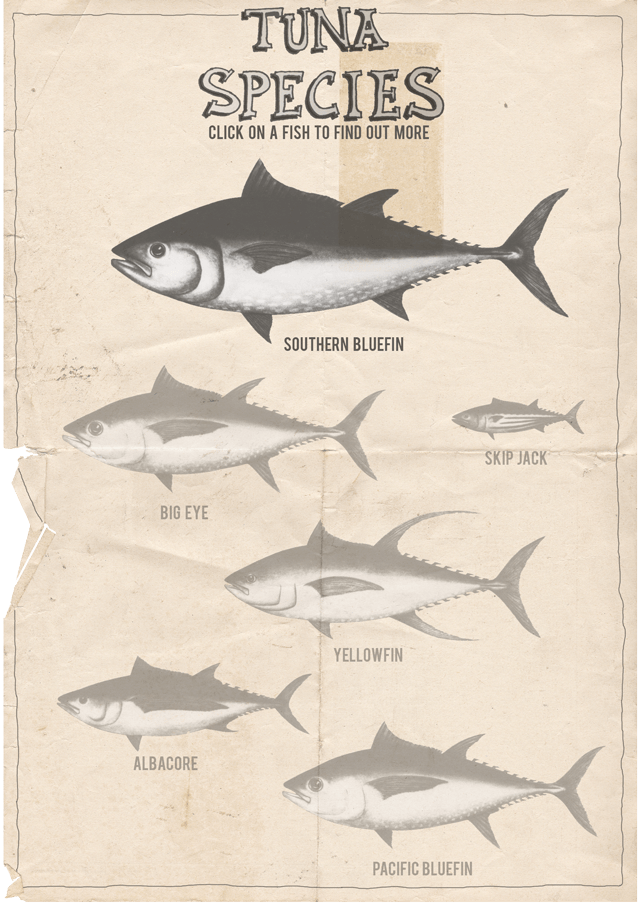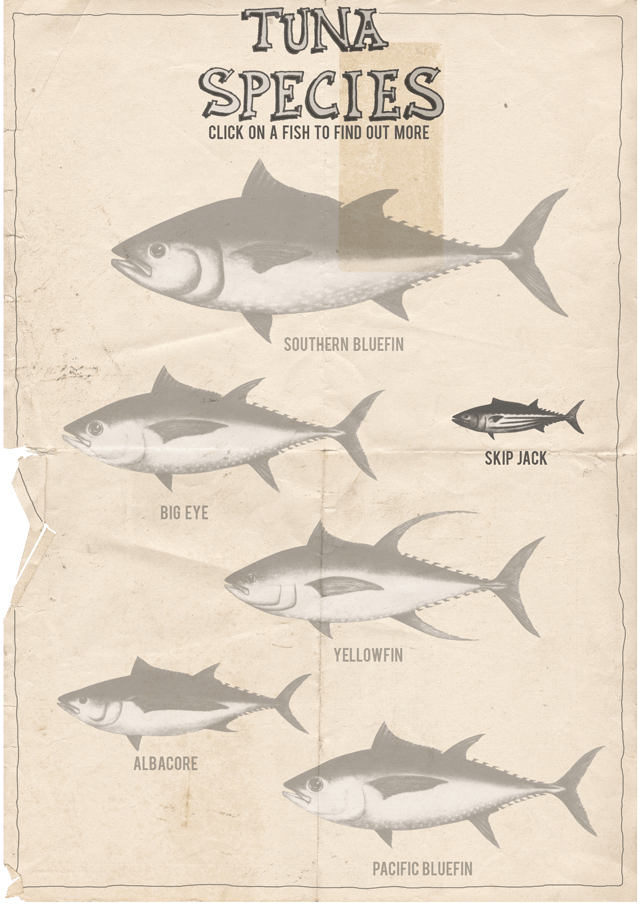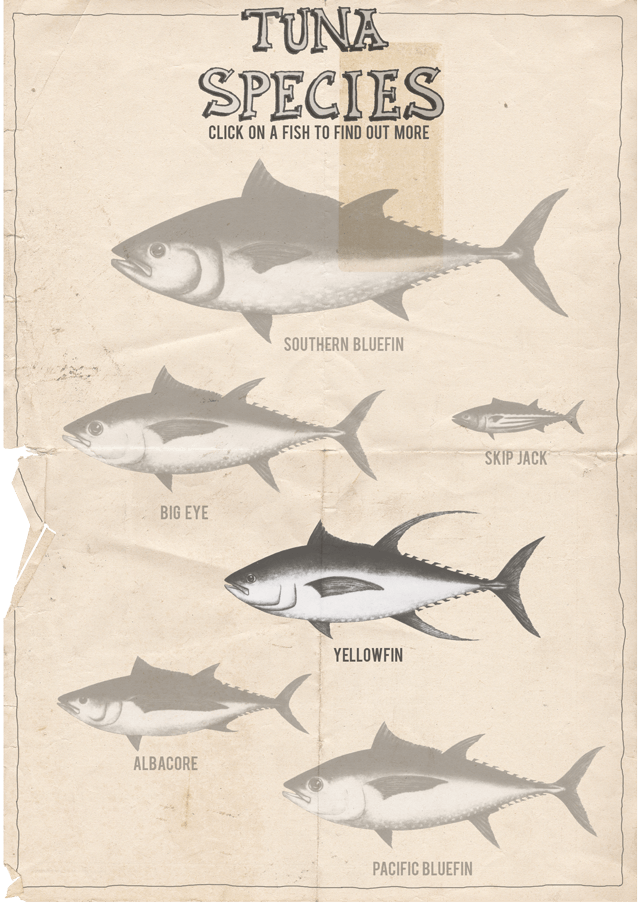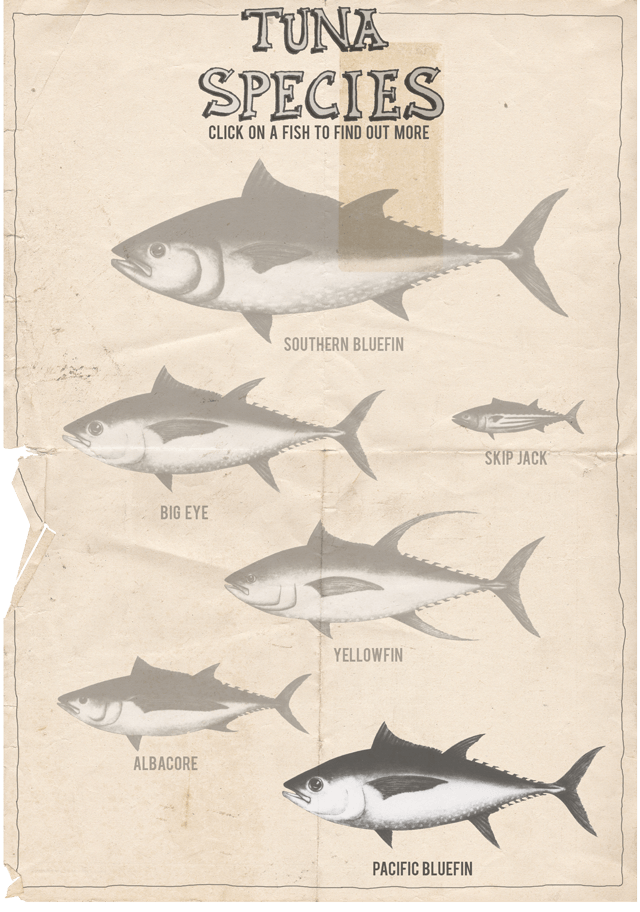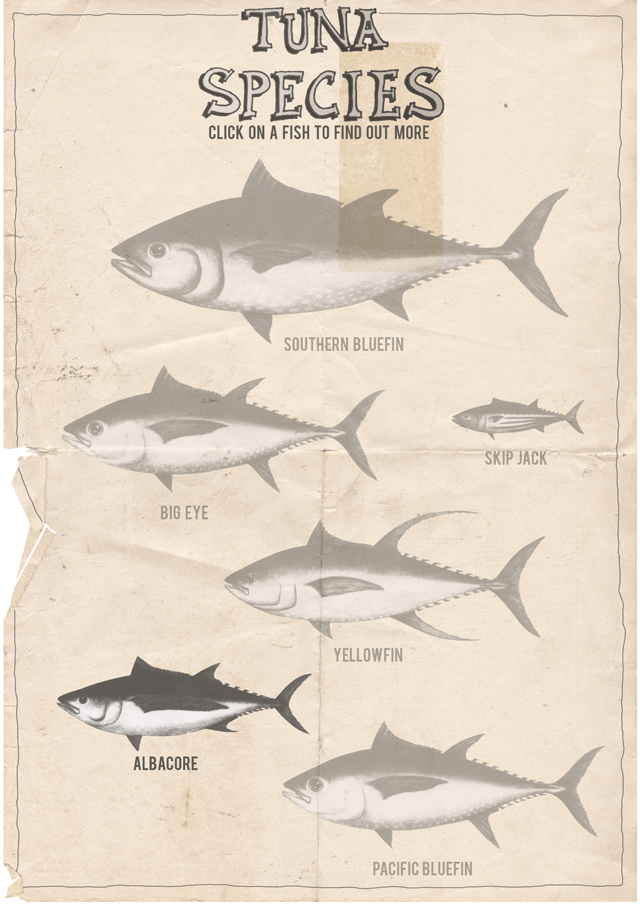 About 900,000 kg caught in NZ waters
Almost 700,000 kg of that is exported, mostly to Japan
If you're eating bigeye, it probably comes from NZ waters
100,000 kg caught in NZ
Most of it is exported
Only a small amount is imported
Most commonly-caught species (5 million kg)
Another 63,000 kg imported (likely for bait)
All the NZ catch is exported for canning
If you're eating yellowfin, it probably came from overseas
Only 7500 kg was caught in NZ waters
More than 240,000 kg of it is imported, mostly fresh from Fiji
The species you're least likely to come across
Only 14,000 kg caught in NZ waters
Just small amounts imported (and exported)
Second-most prolific tuna species caught in NZ waters (2 million kg)
Almost all albacore was exported, most of it frozen, to North America, Europe and Asia
Fiji, Indonesia, Samoa, Tonga
When you look at fish imported from Fiji, you have to look at the New Zealand company Solander. It was one of the businesses Stuff Circuit approached in our survey of importers, and it was the first to respond.
Company owner Charles Hufflett rang almost straight away to explain Solander's supply chain.
He describes tuna as the Nelson-based company's signature line. Some is caught in New Zealand, but most is sales of yellowfin and bigeye caught in Fiji, processed into wholesale fillet sizes and flown to Auckland. Clients include top restaurants and resorts, looking to serve fresh, premium tuna.
Solander owns a subsidiary which operates about 10 vessels and a processing facility in Fiji. The boats are longliners, but they operate within Fiji waters, and are mostly crewed by locals. "It means we're operating under Fiji laws, including labour laws," says Hufflett.
This oversight, plus what he sees when he visits regularly, gives him confidence about the conditions for the people who work Solander boats.
That's the case with most boats fishing in local waters - they're not the deep-water vessels plying the high seas for months on end that concern campaigners and investigators.
Most of the other boats based in Fiji are Chinese-linked, though Fiji laws require businesses to be majority locally-owned. The move into the fishing industry has been part of China's expansion in the Pacific over the past 20 years or so, says Hufflett.
Taiwan, too, has a considerable presence in Fiji.
A majority of the processing factories are linked to China and Taiwan. And it's through these processing facilities that Fiji has a connection to the deep water fleet.
A giant Taiwanese company, FCF, is the buyer for the Fiji government cannery in Levuka. Hufflett says many Taiwanese and Chinese off-shore vessels off-load in Levuka. "They're not Fiji-flagged, they are foreign vessels landing into that port."
The fish off-loaded there is mostly albacore, most of it frozen.
Remember most of the fish that comes to New Zealand from Fiji is fresh or chilled (though there is that 450,000 kg of frozen, ground tuna meat imported since 2007).  
Hufflett isn't happy about imports of frozen tuna, partly because of the way some of it is treated, allowing it to keep its colour and be preserved for longer.
"I think it's tasteless but they're our competitors so I would say that."
But the other issue with frozen tuna, of course, is it's harder to know where it comes from.
Which is the point campaigners are concerned about - if we don't know where it comes from, how do we know what the conditions were like onboard the boat that caught it?
So, we've established that Taiwan has connections to Fiji, the biggest source of tuna for New Zealand. But with most tuna from Fiji fresh or chilled yellowfin, unlikely to have come from the Taiwanese fleet or other deep water vessels, establishing evidence of slave-tainted tuna coming via Fiji is difficult, although there are still questions about that frozen, ground albacore.
Are there any direct Taiwanese connections to New Zealand? Companies Office records show that in 2008, a British Virgin Islands-registered subsidiary of Taiwanese giant FCF became a majority owner of a New Zealand company, Temuka Seafoods. The BVI company, Skymax International, owns 80 per cent of Temuka, which has two Taiwanese directors.
One has connections to FCF.
Temuka's registered address is in Christchurch, but the MPI register of importers shows another address, in south Auckland, in a quiet industrial area. Refrigerated trucks go up and down the long driveway.
It certainly doesn't look like the New Zealand landing base for one of the biggest tuna companies in the world.
The property is also the home of a fish importing business called Pendarves, which brings fresh and chilled tuna from Fiji.
A director of Pendarves, Ben Burney, is also a director of Temuka.
So what, if any, connection does FCF have with fish imports to New Zealand?
Burney, a businessman well-known and well-liked in the New Zealand tuna industry, is happy to speak to Stuff Circuit, keen to explain the division between the Taiwanese majority-owned company, Temuka, and Pendarves, which supplies tuna to supermarket chain Foodstuffs and fish wholesalers.
Burney is very firm, saying there is no connection. Pendarves is the company which imports tuna for consumption in New Zealand; Temuka is an international bait business.
Through Temuka, Burney says, he buys fish globally and sells it to boats around the world. The Taiwanese, he says, are simply investors.
Later, he rings back to emphasise the difference between the businesses, telling us he only deals with Fiji-based companies to buy the tuna for the New Zealand market - he even invites us to go to Fiji to have a look for ourselves.
Everything he buys is ethically sourced, he says, with workers protected by Fiji labour laws.
But what about through the bait business? Is he sure he's not inadvertently supporting boats which don't give their crew a fair deal? "Definitely."
Burney says that New Zealand has a reputation to protect internationally.
Nevertheless, could slave-tainted fish be ending up on New Zealand plates? "Definitely not.
"In all the time that I've been doing this business I've never had fish like that offered to me."
So, a New Zealander in the business, with connections to Taiwan, is adamant no slave-tainted fish are ending up in New Zealand.
And an independent fisheries expert with knowledge of the Pacific fisheries, Francisco Blaha, says that in the case of fish caught in the waters of island nations, he agrees.
"Most of the tuna [coming to New Zealand] will have come from Fiji or Tonga from vessels that are being operated by local crews and that are fishing under legal conditions."
But things get tricky when you are dealing with frozen tuna with a murky supply chain.
Which makes Tim McKinnel adamant that slave-tainted fish is likely to be landing in New Zealand.  "Oh I think it's a very genuine risk but it's so difficult to unwind supply chains and it's difficult to know for sure who's at risk and that damages the whole industry. And as you rightly pointed out there are some ethical, sustainable operators out there. We need to know who they are and we need to be able to find out who the baddies are."
Glenn Simmons agrees: "I'd say it's close to a 100 percent chance. In some cases it's almost certain that we have eaten fish caught by crew under conditions of forced labour."
The industry body representing the New Zealand industry, Seafood NZ, says consumers should be wary of fish coming into the country.
"All vessels and crew fishing in New Zealand must abide by New Zealand's stringent labour laws. Other countries will have different labour requirements, and while this is outside our jurisdiction the consumer should be mindful."
In Taiwan, the Fisheries Agency, which has responsibility for oversight of the tuna industry, says it is leading changes.
The agency insists it is "dedicated to enhancing the protection of rights and benefits of foreign crew members".
While admitting that, historically, legal protections for those crews was inadequate, the agency says the passing of new legislation in 2017 has improved the situation.
The law required minimum wages, daily rest time of 10 hours with four days off per month, and insurance to cover costs in the event of death and injury.
"Meanwhile, starting from 2017, personnel have been assigned to interview foreign crew members in domestic and foreign ports using questionnaires," says the agency. "In the event that any operator or employment agent is suspicious of violation, [an] investigation will be carried out accordingly."
It also says it wants to invite NGOs for discussions to help improve regulations.
At Greenpeace's Taiwan headquarters, Jodie Yi Chiao Lee remains sceptical. "I think human rights issues have been in the tuna industry for a long while, decades...it's systemic," she says. The industry and the regulators are entwined.
She has more faith in the power of consumers to sort out the issues. "Consumers should be aware of where your fish comes - make sure the fish on your dinner table is not coming from [sources where there are] human rights abuses. There should be labels showing where the fish is from, where it's being processed - and that is possible."
Simmons agrees that consumers are the key.
"What it needs is increased transparency, it needs sunlight," says Simmons. "You know sunlight has a way of curing a lot of problems. And that would go a long way to curing the problems that are rampant in the fishing industry."
It's too late for Supriyanto. And nothing can ever bring back the skipper of the Tunago Number 61, nor free the men who killed him. But as consumers are we prepared to stand by and allow the carnage on the high seas to continue?